On†† February 20th 2016† Fiji† was struck† by the worst cyclone ever recorded in the southern hemisphere (and the second worst ever in the world). Tropical Cyclone Winston (category 5) destroyed thousands of homes and in some cases flattened whole villages. The most severely affected† areas were parts of the Lau Group, the southern side of the island of Taveuni, the whole of Ovalau and Koro and the northern coast of the main island, Viti Levu.
As we were there at the time, we† were able† to† respond† quickly and decided† to concentrate our help on the island of Ovalau. We provided tarpaulins,† mosquito† nets† and† water purification† systems† to† give immediate relief. Then we supplied seeds to communities whose crops had been completely wiped out.
It will take a very long time, probably years, to get things back to any semblance of normality and to get services restored.
<![if !vml]>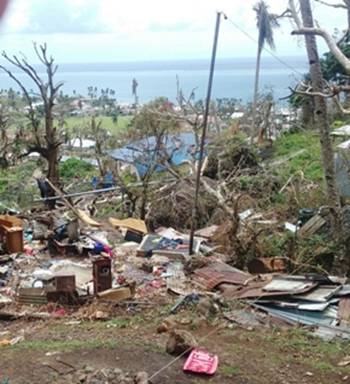 <![endif]>
We are delighted to report that construction of the bridge over the Korotari River has finally begun. Progress has been interrupted by severe weather and the plans had to be modified in the light of the new records set by TC Winston. However, as we head out of the cyclone season, we are confident that things will soon be taking shape.
School Visits
We made a return visit to the John Wesley Schools in Suva and were able to supply new desks for one of the primary classrooms and a set of rugby shirts (donated by the Dorchester†† Rugby†† Club in Dorset) for the secondary students at the Sports Academy.
<![if !vml]>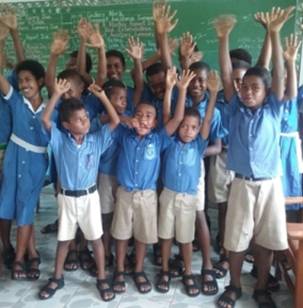 <![endif]>
For† many† children† in Fiji the journey to school can be long and difficult.† Some of† the students attending Veisaru Primary School have to walk long distances over rough ground and parents often find it impossible to afford shoes. The children regularly have cuts† on their feet† and, in† the tropical climate† of†† Fiji†† these† quickly become infected and cause great distress.
We† called† at† the† school and identified the children who needed shoes. We then asked the children to stand on a piece of paper and we drew round one of their feet. As they didn't own shoes, they didnít know their size! We then took the papers† to a local shoe shop and selected the shoes that matched our templates.
We†† had†† great† fun† when† we returned† with the schools and shared out the shoes!
<![if !vml]>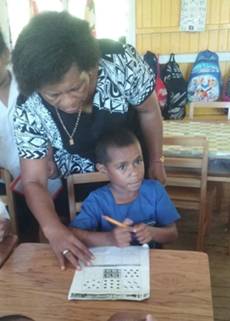 <![endif]>